Mitsubishi Events Dye Sub Printers
The CP-M1E Mitsubishi Electric's Photo Printer delivers exceptional print quality, a printing volume up to 750 prints (10x15cm) (4x6") and a very easy media replacement in a reduced footprint. The result is a very powerful printer model, saving time and operational costs. When the last half part of the ribbon patch is not used in the last order it can be capable for next printing order of 10x15 (4x6"). Fine mode doesn't allow Rewind function. With up to 750 prints (10x15cm) capacity in a very reduced size, it's a very complete solution perfect for high capacity demand and less media exchange operations, resulting cost saving model and perfect for kiosk & photo booth use. No compromise on print details in bright or dark prints. Designed with Mitsubishi's proprietary print-head control engine & image processing algorithms enable printing of high quality photos, delivering a Superior color depth and Extreme detailed output. The CP-M1E comes with a new Dust-resistant design, that minimizes operational and printing issues caused even when installed in dusty environment. The new media exchange method is user-friendly design to make media reloads quick and easy. It allows immediate loading when taken out of the box. Media replacement is so simple as 3 easy steps accessible from the front of the printer. https://www.youtube.com/watch?v=YYkBe-xvpmI
CP-3800DW is new sublimation printer format 20x25 / 20x30 based on succesfull roll type technology! GLOSSY and MATTE printing from the same standard paper roll. Superb quality of printing 300 / 600 DPI. Silent and borderless printing. Surprisingly compact / small dimensions (printer A4). Connectivity to Mitsubishi systems and to standard PCs. Additional advantage of printer, mainly for event photo - paper does not come out from machine during printing, only final print is pushed out .. better protection against dust etc. You can connect printer to standard WIN PC / Mac and to all  Mitsubishi system (red) printers (Click / Kiosk) Mitsubishiís 8 inch roll fed dye sublimation printer produces high quality, detailed images. With a compact, lightweight and robust design it is ideal for event photography, professional studios and photo retail. This easy to use photo printer can easily be connected to a laptop or PC.
Combining the performance of two printers with the power of one, Mitsubishi Electric's CP-D707DW double-deck, full-featured professional event photo printer is designed for speed. Realising approx 5.9 second (4x6") print time, the CP-D707DW accommodates uninterupted printing of up to 800 4x6" prints, all whilst incorporating energy saving features. High speed, high resolution, high capacity. Mitsubishi Photo printers are designed to reduce power consumption in sleep mode by up to 96% vs precedent printer generations. Standby power refers to the electric power consumed by electronic appliances while they are switched off or in a standby mode. Saves energy in sleep mode, reducing power consumption less than 1 watt. The CP-D707DW's efficiency is enhanced with a unique cooling system technology ideal for environments that suffer a higher level of pollution or dust. With in-built separators designed to circulate air efficiently, keeps the heads separated from the power supply and reduces dust issues.
The CP-D70DW Color Dye-Sub Photo Printer from Mitsubishi features a 300 dpi images and can output a 4.0 x 6.0" photo in 8.4 seconds. The printer is compatible with media from 3.5 x 5.0" up to 6.0 x 8.0". Despite its compact size, the printer is still able to output 400 photos, sized 4.0 x 6.0", in a single run. A perfect choice for Social/Event photography and Professional studios. The CP-D70DW is a full-featured lightweight professional photo printer, and is lightning fast, creating brilliant high-quality photo prints, delivering high-resolution, studio-quality, matte-finish photos on-site or in the studio. The CP-D70 uses a new image-processing algorithm that enhances natural image sharpness and clarity and brings out the best in event photographs.
The latest innovation by Mitsubishi Electric in digital sublimation printing. The CP-D80DW, also designed with space in mind, prints high-resolution photographs in just 11.3seconds with a 96% reduction in energy consumption in stand-by mode. The CP-D80DW is capable of letting users print sizes up to 15×20 (6x8") from a single type of media. No need for swappping paper rolls, reducing your keeping stock of multiple types of media. Designed with space in mind, its footprint and less types of media makes CP-D80DW a best-selling value model.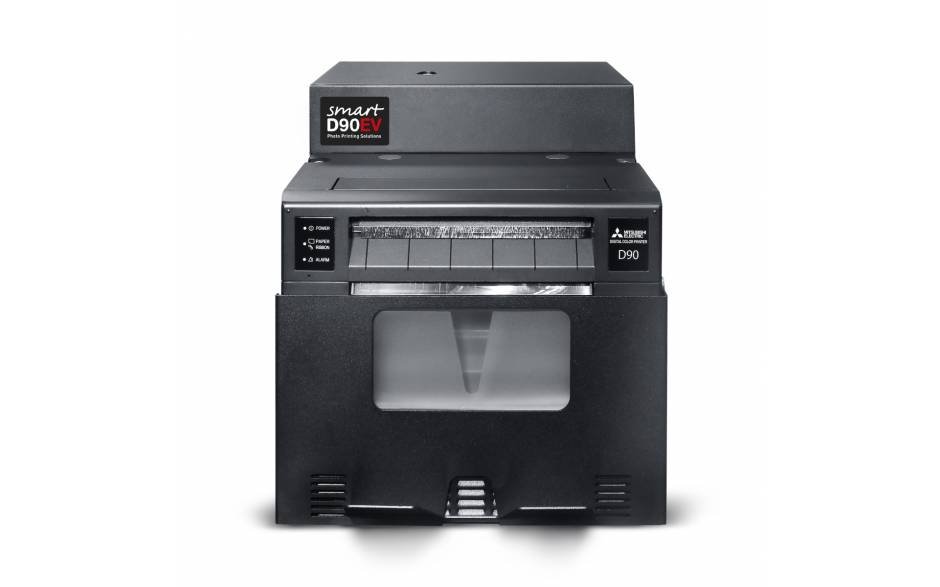 The new Mitsubishi Smart D90 DW/EV/RT is a high quality dye sub photo printer ideal for all types of events, which allows you and your customers to print photos without any computer being required. Compact and adapting to any type of space, the Mitsubishi Smart D90 DW/EV/RT has a high print speed that allows guests to effortlessly customise and print out their photos in seconds. The Mitsubishi Smart D90EV also has fully configurable print templates e.g. Polaroid style, Instagram style etc, so that you or the events management can customise the prints for the type of event e.g. Wedding, Birthday, Graduation, School Prom etc. The CP-D90DW is a compact dye sublimation printer that with its small footprint design requires minimal installation space. Both glossy and matte finishes are available and the newly developed image processing method allows for the reproduction of excellent true to life prints. Additionally, CP-D90DW integrates the two main market trends of dye sublimations printers in the same printer:
Thanks to its rewind system the users can now produce two different print sizes from just one media without any wastage! No need to change the media to print 4x6 or 6x8.
Dedicated media allows to get the fastest printing speed, including a new air-cooling mechanism which provides one of the best printing throughputs of the market.